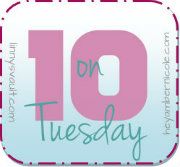 ONE. Tuesday always starts off with dialysis. Just a new fact of my life.
TWO. I missed The Oscars. I decided to go to work with my mom & I couldn't get the live streaming site to work. Doesn't matter though I didn't see any of the nominated films & really wouldn't have known the difference by seeing the winners.
THREE. I felt really good about keeping up with blogging this past week. It's easy to do when you take pictures & have blog hops & such to participate in.
FOUR. I saw my Nephrologist today. He says I am not eating or drinking enough & some of my important numbers are dangerously low. I definitely have to fix that problem.
FIVE. I won a giveaway at
Once Upon a Book
for a signed copy of a book called His Yankee Bride by Rose Gordon. I can't wait to read it & I will post a review as soon as I finish it!
SIX. I need a haircut. And I need to get my eyebrows done. Stat.
SEVEN. Anyone want to give me ideas for ways to build a following? Not like a massive following, but a following that actually reads my blog & engages in content & activities.
EIGHT. Craving a chili cheese coney & tots from Sonic! With a large diet coke, lol. They have the best fountain drinks.
NINE. I'm so happy to have a car again, but I am in dire need of gas & gas monies right now.
TEN. It is time for another trip to the beach Even the Mississippi Gulf coast will do.